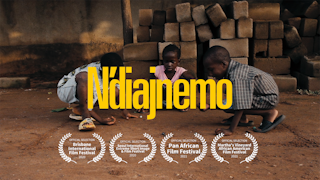 N'diajnemo
On the eve of David's big audition, Cheick takes the spotlight.
Made in collaboration with film and music students at Conservatoire des Arts et Metiers Multimedia Balla Fasseké Kuoyaté. We set out to make a comedic action film dramatizing their lives.
Official Selection: Brisbane International Film Festival, Pan African Film Festival, SESIFF, Martha's Vineyard African-American Film Festival, Out of Africa International Film Festival, Argo Film Festival
Film by: Habib Yazdi
Edit by: Gen Liu
Sound by: Jared Horowitz
Titles by: Bronson Stamp
Cast:
David - David Joël Konaté
Cheick - Cheick Nomoko
Fisa - Nafissatou Traoré
Mohammed l'électricien - Alassane Ly
Mangeur de chèvre - Demba Diabaté Kisto
Conducteur de taxi - Nama Koné
Guitariste - Mahamadou Doumbia
Découvreurs de talents - Laurence Deschamps-Laporte, Habib Yazdi
Music by:
David Joël Konaté
Demba Diabaté Kisto
Oscar Touré
Lassine Kone, Badié Niaré, Daouda Coulibaly
Special Thanks: Mamadou Habib Ballo and the Conservatoire des Arts et Métiers Multimédia Balla Fasseké Kouyaté
And also: Melanie Wen, Frank Sun, David Campbell, John David Devirgiliis, Joe Collevecchio, Alex Nystrom, Steve McCord, Ali Mao
Photographed in 2010, completed in 2020.